arrow_forward_ios

arrow_forward_ios
Collection of Works by Augustine, Didymus the Blind, and Quodvultdeus
2nd half 9th century (Medieval)
This Carolingian manuscript, probably written in northeastern France in the late ninth century, may have important royal affiliations. A distych, or a two-line verse, found on fol. 60v refers to "REX SAPIENS," and has been seen as evidence that this manuscript is a copy of one made for Charles the Bald. In addition to this remarkable pedigree, the manuscript is also noteworthy for its inclusion of several rare texts, including works by St. Augustine of Hippo, the Coptic theologian Didymus the Blind, and Quodvultdeus, a fifth-century bishop of Carthage. The single illumination in the manuscript, an elaborate title page, is a modern addition.
Provenance

Provenance (from the French provenir, 'to come from/forth') is the chronology of the ownership, custody, or location of a historical object.
Created in Champagne, France (?). The monastery of Saint-André de Villeneuve-lés-Avignon, 17th century [1]; Acquired by Bénigne-Charles Févret de St. Mesmin [1739-1792], Dijon [2]. Acquired by Léon Gruel, 19th-20th century, Paris; purchased by Henry Walters, Baltimore; by bequest to Walters Art Museum, 1931.
[1] ownership inscription added in 17th century in upper margin of fol. 2r: 'Iste liber est monasterii sancti Andree dyocesis auinionensis / .aab. /; and in another slightly later hand, added after 1635: Monasterii Sancti Andreae congregationis S. Mauri: /; in lower margin, added after 1640: 'Catalogus inscriptus', reference to 36-line description of W. 2 in Saint-André library catalogue begun 29 September 1640 by Dom Odon de la Mothe (d. 1643), binding described as 'postibus copertam et basana alba a parte putrida'
[2] facsimile (?) of bookplate of Bénigne-Charles Févret de St. Mesmin (here spelled 'Memin') of Dijon (1739-1792), affixed in all likelihood by Gruel at time of rebinding, 19th/20th century (?)
Exhibitions
| | |
| --- | --- |
| 2003 | The Cross and the Crescent: Books from the Ottoman Age. The Walters Art Museum, Baltimore. |
| 1984-1985 | Illuminated Manuscripts: Masterpieces in Miniature. The Walters Art Gallery, Baltimore. |
Conservation
| Date | Description | Narrative |
| --- | --- | --- |
| 4/14/2016 | Treatment | examined for exhibition; stabilized |
Geographies
France, Reims (Place of Origin) France, Champagne (Place of Origin)

Measurements
Folio H: 7 13/16 × W: 6 5/16 in. (19.8 × 16 cm)
Credit Line
Acquired by Henry Walters
Location in Museum
Not on view
Accession Number

In libraries, galleries, museums, and archives, an accession number is a unique identifier assigned to each object in the collection.
W.2
Do you have additional information?
Related Objects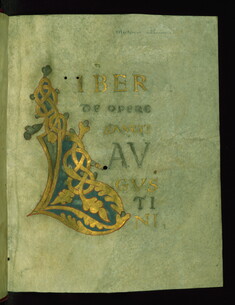 Modern Illuminated Title Page from a Collection of Works: Initial L
view details
Binding from a Collection of Works by Augustine, Didymus the Blind, and Quodvultdeus
late 19th-early 20th century (Medieval)
view details