arrow_forward_ios

arrow_forward_ios
Medallion with Alexander the Great
ca. 215-243 CE (Imperial Roman)
Together with Walters 59.2 and 59.3, this piece was discovered in Egypt as part of a hoard that comprised about twenty similar medallions (now dispersed among various museums), eighteen gold ingots, and six hundred gold coins issued by Roman emperors from Severus Alexander (r. 222-235 CE) to Constantius I (r. 293-306 CE). One of the medallions, now in the Calouste Gulbenkian Museum in Lisbon, bears an inscription that possibly reads "Olympic games of the year 274", a date corresponding to 242-243 CE. It is possible that the medallions were intended as prizes to be given out at that event. Alternatively, they may have been issued by Emperor Caracalla (r. 198-217 CE), who is potrayed on some of them. Caracalla liked to be compared to the great king and conquerror Alexander of Macedon (ruled 336-323 BCE). Like Alexander, this Roman emperor waged war in the East, and actually died in the course of his campaign against the Parthians. This particular medallion shows Alexander the Great gazing heavenward and bearing a shield decorated with signs of the zodiac. This portrait shows him with his hair pulled back. He wears a decorated cuirass with a figure of Athena on the shoulder strap and, on the chest, a scene from the Gigantomachy (War of the Giants). The back depicts Alexander and Nike, goddess of victory, riding in a chariot, flanked by the deities Roma and Mars.
Inscription
Provenance

Provenance (from the French provenir, 'to come from/forth') is the chronology of the ownership, custody, or location of a historical object.
[Discovered at Aboukir, Egypt, in 1902]; Panayotis Kyticas, Cairo, by purchase; Dikran Kelekian, New York and Paris, [date of acquisition unknown] by purchase; Henry Walters, Baltimore, [date of acquisition unknown], by purchase; Walters Art Museum, 1931, by bequest.
Exhibitions
| | |
| --- | --- |
| 2019-2021 | Excursions through the Collection: Portraiture, Adornment, and the Natural World. |
| 2009-2011 | Heroes: Mortals and Myths in Ancient Greece. The Walters Art Museum, Baltimore; Frist Center for the Visual Arts, Nashville; San Diego Museum Of Art, San Diego; Alexander S. Onassis Public Benefit Foundation (USA), New York. |
| 2004-2005 | Alexander the Great: Treasures from an Epic Era of Hellenism. Alexander S. Onassis Public Benefit Foundation (USA), New York. |
| 1995 | Lisippo: L'Arte e la Fortuna (Fortune of Lisippus). Palazzo delle Esposizioni, Rome. |
| 1980-1983 | The Search for Alexander. National Gallery of Art, Washington; The Art Institute of Chicago, Chicago; Museum of Fine Arts, Boston, Boston; Fine Arts Museums of San Francisco, San Francisco; New Orleans Museum of Art, New Orleans; Royal Ontario Museum, Toronto. |
Conservation
| Date | Description | Narrative |
| --- | --- | --- |
| | Examination | x-ray |
| 2/1/1939 | Treatment | other |
| 11/1/1978 | Treatment | examined for condition |
| 11/8/1979 | Loan Consideration | examined for loan |
| 10/20/1982 | Loan Consideration | examined for loan |
| 7/26/1994 | Loan Consideration | examined for loan |
| 6/13/1995 | Loan Consideration | examined for loan |
| 5/24/2004 | Loan Consideration | examined for loan |
| 9/1/2007 | Examination | technical study |
Measurements
Diam: 2 1/8 x D: 5/16 in. (5.34 x 0.75 cm)
Credit Line
Acquired by Henry Walters
Accession Number

In libraries, galleries, museums, and archives, an accession number is a unique identifier assigned to each object in the collection.
59.1
Do you have additional information?
Related Objects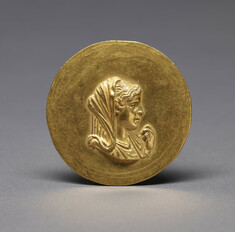 Medallion with Olympias
ca. 215-243 CE (Imperial Roman)
view details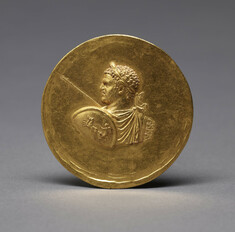 Medallion with Roman Emperor Caracalla
ca. 215-243 CE (Imperial Roman)
view details