arrow_forward_ios

arrow_forward_ios
Medallion with Roman Emperor Caracalla
ca. 215-243 CE (Imperial Roman)
Together with 59.1 and 59.2, this piece was discovered in Egypt as part of a hoard that comprised about twenty similar medallions (now dispersed among various museums), eighteen gold ingots, and six hundred gold coins issued by Roman emperors from Severus Alexander (r. 222-235 CE) to Constantius I (r. 293-306 CE). One of the medallions, now in the Calouste Gulbenkian Museum in Lisbon, bears an inscription that possibly reads "Olympic games of the year 274", a date corresponding to 242-243 CE. It is possible that the medallions were intended as prizes to be given out at that event. Alternatively, they may have been issued by Emperor Caracalla (ruled 198-217 CE), who is potrayed on the this medallion in profile, bearing a shield on his shoulder decorated with the image of Nike in a racing-chariot. The back depicts Caracalla's distant predecessor King Alexander of Macedon (r. 336-323 BCE) in short chiton and chlamys (a cloak) hunting a boar. This depiction of a royal hunt was intended to emphasize the prowess that Alexander also showed in battle.
Inscription
Provenance

Provenance (from the French provenir, 'to come from/forth') is the chronology of the ownership, custody, or location of a historical object.
[Found at Aboukir, Egypt, 1902]; Panayotis Kyticas, Cairo, [date of acquisition unknown], by purchase; Dikran Kelekian, Constantinople and Paris [date of acquisition unknown], by purchase; Henry Walters, Baltimore [date of acquisition unknown], by purchase; Walters Art Museum, 1931, by bequest.
Exhibitions
| | |
| --- | --- |
| 2019-2021 | Excursions through the Collection: Portraiture, Adornment, and the Natural World. |
| 2004-2005 | Alexander the Great: Treasures from an Epic Era of Hellenism. Alexander S. Onassis Public Benefit Foundation (USA), New York. |
| 1980-1983 | The Search for Alexander. National Gallery of Art, Washington; The Art Institute of Chicago, Chicago; Museum of Fine Arts, Boston, Boston; Fine Arts Museums of San Francisco, San Francisco; New Orleans Museum of Art, New Orleans; Royal Ontario Museum, Toronto. |
Conservation
| Date | Description | Narrative |
| --- | --- | --- |
| | Examination | x-ray |
| 2/1/1939 | Treatment | other |
| 11/1/1978 | Treatment | examined for condition |
| 11/8/1979 | Loan Consideration | examined for loan |
| 9/1/2007 | Examination | technical study |
Measurements
3/16 x 2 1/4 in. (0.6 x 5.7 cm) (d. x diam.)
Credit Line
Acquired by Henry Walters
Accession Number

In libraries, galleries, museums, and archives, an accession number is a unique identifier assigned to each object in the collection.
59.3
Do you have additional information?
Related Objects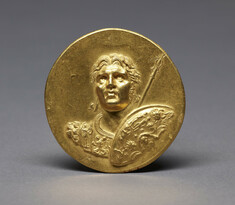 Medallion with Alexander the Great
ca. 215-243 CE (Imperial Roman)
view details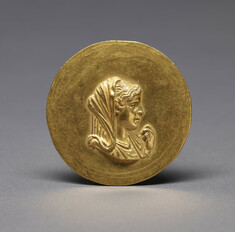 Medallion with Olympias
ca. 215-243 CE (Imperial Roman)
view details