arrow_forward_ios

arrow_forward_ios
The Ghistelles Calendar
The calendar itself starts on fol. 1r, half way through the month of January, and ends on fol. 12r, with December. Fol. 12v contains a table of the dates of Easter. Fol. 13r contains a list of days of fairs at certain towns. Fols. 13v-14v are blank. The quire structure is regular, fols. 6/7, 5/8, 4/9, 3/10, 2/11, and 1/12 are conjoint. Fols. 13 and 14 are singletons. Fol. 13 was presumably once conjoint with the now missing first part of the text, and it is likely that fol. 14 was once conjoint with a (possibly blank) page prefatory to the calendar. Judging by the degree of wear on the present fol. 1r, the first page of the calendar has been lost for many years. Structurally, however, the present fragment probably formed a discrete "booklet" within the Hours of which it was once a part.
Provenance

Provenance (from the French provenir, 'to come from/forth') is the chronology of the ownership, custody, or location of a historical object.
Possibly made for John III, Lord of Ghistelles and Ingelmunster, (d. 1315); Sir Sydney Cockerell [date and mode of acquisition unknown]; Dr. Rosy Schiling [date and mode of acquisition unknown]; Western Manuscripts and Miniatures Sale, Sotheby's London, December 1, 1998, Lot 17; Walters Art Museum, 1999, by purchase.
Exhibitions
| | |
| --- | --- |
| 2010 | Checkmate! Medieval People at Play. The Walters Art Museum, Baltimore. |
| 2002 | Medieval Mastery, Book Illumination from Charlemagne to Charles the Bold (Meesterlijke Middeleeuwen). Stedelijik Museum Vander Kelen-Mertens, Leuven. |
Credit Line
Museum purchase, made possible by the Women's Committee, Octavo Plus, and Mr. and Mrs. James Ulmer III, 1999
Location in Museum
Not on view
Accession Number

In libraries, galleries, museums, and archives, an accession number is a unique identifier assigned to each object in the collection.
W.851
Do you have additional information?
Related Objects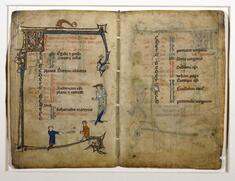 Leaf from The Ghistelles Calendar
view details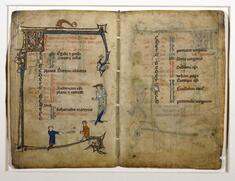 view details