arrow_forward_ios

arrow_forward_ios
Psalter-Hours of Brother Guimier
This unusually large Psalter-Hours was created in the last quarter of the thirteenth century in the Thérouanne region of northeastern France, considered Flanders at the time. Illuminated throughout with elaborate decorated and historiated initials, the manuscript also contains a single full-page miniature of the martyrdom of Thomas Becket. An emphasis on Augustine in the calendar and litany suggest that the manuscript's original patron may have been associated with an Augustinian foundation, possibly Saint-Augustin-lès-Thérouanne. An inscription dated 1590 indicates that the book was given to Brother Iohannes Guimier by a previous owner, Henricus Iordanus. It was at this time that an alphabetical index, foliation, and notations were added to the manuscript, suggesting that Brother Guimier used it a great deal. The binding, a nineteenth-century fabrication, is adorned with a large medieval champlevé enamel plaque in the Limoges style, which is roughly contemporary with the manuscript.
Provenance

Provenance (from the French provenir, 'to come from/forth') is the chronology of the ownership, custody, or location of a historical object.
[1] [2] Dominus Henricus Iordanus, France, late 16th century (?) [3]; given to Iohannes Guimier, France, 1590 [3]. Unknown English owner, England, 2nd half 19th century [4]. Acquired by Léon Gruel, Paris, late 19th-early 20th century [5]; purchased by Henry Walters, Baltimore, 1903; by bequest to Walters Art Museum, 1931.
[1] Likely created for the use of Thérouanne for a male supplicant as indicated on fol. 151r, though the form of the collect changes from male to female
[2] Obituary added in calendar for March 18 in a 14th century hand: "domini Iamberti de tolneere annon lvi"
[3] Dated inscription on fol. 1r indicates the gift
[4] Notes and inscriptions, e.g. fol. 194r "v r second of April, 1889" (erased but still visible, upside down)
[5] Bookplate inscribed "No 129"
Exhibitions
| | |
| --- | --- |
| 2002 | The Book of Kings: Art, War, and the Morgan Library's Medieval Picture Bible. The Walters Art Museum, Baltimore; Academy Art Museum, Easton; Princeton University Art Museum, Princeton; The Mitchell Gallery, Annapolis; Williams College Museum of Art, Williamstown. |
| 1999-2000 | Vive la France! French Treasures from the Middle Ages to Monet. The Walters Art Gallery, Baltimore. |
| 1998 | Mything Persons: Historic Figures in Legends of East and West. The Walters Art Gallery, Baltimore. |
| 1986 | Jewish Heroes in Christian Books. The Walters Art Gallery, Baltimore. |
Conservation
| Date | Description | Narrative |
| --- | --- | --- |
| 10/7/1985 | Treatment | stabilized |
| 10/23/2013 | Treatment | examined for digitization; media consolidation; splits mended |
| 9/12/2016 | Treatment | examined for exhibition; media consolidation |
Geographies
France (Place of Origin) France, Paris (Place of Binding)

Measurements
Folio H: 12 5/8 × W: 9 7/16 in. (32 × 24 cm)
Credit Line
Acquired by Henry Walters, 1903
Location in Museum
Not on view
Accession Number

In libraries, galleries, museums, and archives, an accession number is a unique identifier assigned to each object in the collection.
W.47
Do you have additional information?
Related Objects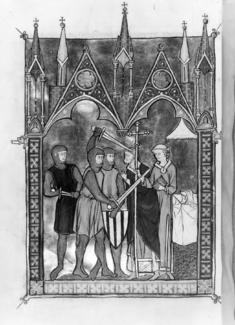 Leaf from Psalter-Hours of Brother Guimier: Martyrdom of Thomas Becket
view details