Medallion of Peretarit (or Berthari) and Godepert, Kings of Lombardy
18th century (18th century)
From a series of relief portrait medallions of the early kings of Italy (Walters 27.483-88, for which see 27.485). Perctarit (died 688) and Godepert (died 661) were sons of Aripert I (king of the Lombards 653-661). The borothers first ruled jointly, Perctarit, a Catholic, ruled from Milan and Godepert, an Arian, ruled from Pavia. The latter was soon assassinated and Perctarit ruled alone, though he was assassinated himself in 688.
Inscription
Provenance

Provenance (from the French provenir, 'to come from/forth') is the chronology of the ownership, custody, or location of a historical object.
Henry Walters, Baltimore [date and mode of acquisition unknown]; Walters Art Museum, 1931, by bequest.
Geographies
Italy (Place of Origin)
Measurements
18 3/8 x 13 3/8 in. (46.7 x 34 cm) approx.
Credit Line
Acquired by Henry Walters
Accession Number

In libraries, galleries, museums, and archives, an accession number is a unique identifier assigned to each object in the collection.
27.486
Do you have additional information?
Related Objects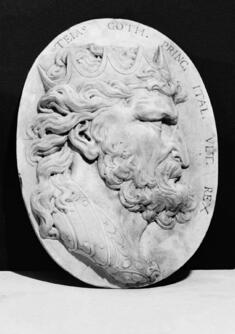 Medallion with Portrait of Teias, the Last Ostrogoth King of Italy
18th century (18th century)
view details