arrow_forward_ios

arrow_forward_ios
Moslem at Prayer
This may be a study for a lost painting or an illustration known only as a grisaille (a monochrome) titled "Arabs at Prayer," which shows a group of men, seen from behind, in the interior of a mosque. This lost work is reproduced on page 305 of Gerald A. Ackerman's annotated reissued version of the drawings course that Bargue put together with fellow French academic painter, Jean-Léon Gérôme. This became the leading resource for teaching drawing in the second half of the 19th century.
"Moslem at Prayer" was one of four drawings purchased in June 1883 from Goupil by George Lucas, William T. Walters' primary dealer in Paris. Walters' interest in images of prayer dated back to the early 1860s, when he filled two entire albums with such works.
Inscription
Provenance

Provenance (from the French provenir, 'to come from/forth') is the chronology of the ownership, custody, or location of a historical object.
Goupil, Paris; purchased by William T. Walters (through George A. Lucas as agent), Baltimore, 1883; inherited by Henry Walters, Baltimore, 1894; by bequest to Walters Art Museum, 1931.
Exhibitions
| | |
| --- | --- |
| 2015-2016 | Gérôme and His Circle: Travel, Art, and Business in the Middle East. The Walters Art Museum, Baltimore. |
| 2005-2006 | The Essence of Line: French Drawings from Ingres to Degas. The Walters Art Museum, Baltimore; Baltimore Museum of Art, Baltimore; Birmingham Museum of Art, Birmingham; Tacoma Art Museum, Tacoma. |
| 2003-2004 | Charles Bargue: The Art of Drawing. Dahesh Museum of Art, New York. |
| 1998-1999 | Botanical Delights: Floral Motifs in 19th-Century Art. Government House, Annapolis; Strathmore Hall Art Center, North Bethesda; Academy Art Museum, Easton. |
| 1998-1999 | A Discerning Eye: Nineteenth-century Drawings and Watercolors. Academy Art Museum, Easton. |
| 1983 | A Connoisseur's Portfolio: Nineteenth-century Drawings and Watercolors in the Walters Art Gallery. The Walters Art Gallery, Baltimore. |
Conservation
| Date | Description | Narrative |
| --- | --- | --- |
| 1/1/2002 | Treatment | examined for exhibition; cleaned; mounted; other |
Geographies
France (Place of Origin)
Measurements
H: 6 9/16 x W: 9 15/16 in. (16.7 x 25.3 cm); Mat H: 14 1/4 × W: 19 1/4 in. (36.2 × 48.9 cm)
Credit Line
Acquired by William T. Walters, 1883
Location in Museum
Not on view
Accession Number

In libraries, galleries, museums, and archives, an accession number is a unique identifier assigned to each object in the collection.
37.1339
Do you have additional information?
Related Objects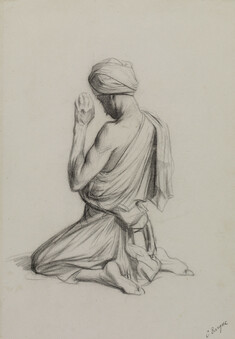 view details
Moslem Prostrating Himself on Prayer Rug
view details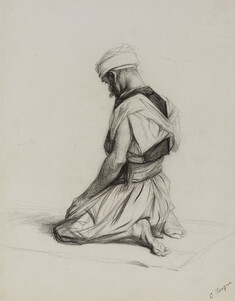 view details