arrow_forward_ios

arrow_forward_ios
Book of Hours
This small but richly illuminated Book of Hours was made ca. 1300-10 for the Use of Liège. The manuscript was created for a woman, likely a Beguine living in Huy, and inscriptions indicate it continued to be used in that region by another family into the seventeenth century. The number and variety of illuminations in the manuscript are remarkable given its small size, for it contains fourteen extant full-page miniatures, twenty-four calendar images, eleven extant large historiated initials, 188 small historiated initials, and countless marginal drolleries. Although an early rebinding resulted in the loss or rearrangement of several folios, this manuscript remains a fine example of the richness and intimacy of a Book of Hours from this period.
Provenance

Provenance (from the French provenir, 'to come from/forth') is the chronology of the ownership, custody, or location of a historical object.
Acquired by the Figinne family, Huy, Belgium, likey before 1400 [1]. Acquired by Léon Gruel and Robert Engelmann Collection, Paris, late 19th or early 20th century [2]; purchased by Henry Walters, Baltimore, after 1905; by bequest to Walters Art Museum, 1931.
[1] fols. 1v and 2r list Figinne family members with death dates spanning 1410-1604
[2] GE bookplate inscribed "No. 390" formerly on the front flyleaf
Exhibitions
| | |
| --- | --- |
| 2010 | Checkmate! Medieval People at Play. The Walters Art Museum, Baltimore. |
| 2009 | Shrunken Treasures: Miniaturization in Books and Art. The Walters Art Museum, Baltimore. |
| 2002 | Medieval Mastery, Book Illumination from Charlemagne to Charles the Bold (Meesterlijke Middeleeuwen). Stedelijik Museum Vander Kelen-Mertens, Leuven. |
| 2002 | The Book of Kings: Art, War, and the Morgan Library's Medieval Picture Bible. The Walters Art Museum, Baltimore; Academy Art Museum, Easton; Princeton University Art Museum, Princeton; The Mitchell Gallery, Annapolis; Williams College Museum of Art, Williamstown. |
| 1993 | Bookish Business: Henry Walters and Leon Gruel. The Walters Art Gallery, Baltimore. |
| 1992 | Manuscript Illumination in Flanders. The Walters Art Gallery, Baltimore. |
| 1989 | In Beeld Geprezen: Miniaturen uit Maaslandse Devotieboeken (1250-1350). Museum voor Religieuze Kunst, Provincie Limburg, Sint-Truiden. |
| 1988 | Time Sanctified: The Book of Hours in Medieval Art and Life. The Walters Art Gallery, Baltimore. |
Conservation
| Date | Description | Narrative |
| --- | --- | --- |
| 1/28/1983 | Examination | examined for condition |
Measurements
Folio H: 3 9/16 × W: 2 11/16 in. (9.1 × 6.9 cm)
Credit Line
Acquired by Henry Walters, after 1905
Location in Museum
Not on view
Accession Number

In libraries, galleries, museums, and archives, an accession number is a unique identifier assigned to each object in the collection.
W.37
Do you have additional information?
Related Objects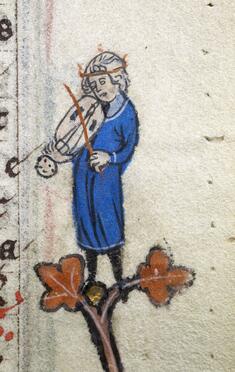 Leaf from Book of Hours: Matins Lesson 5, Initial V with Haloed Monk with Rod and a Man Playing a Vielle in the Margin
view details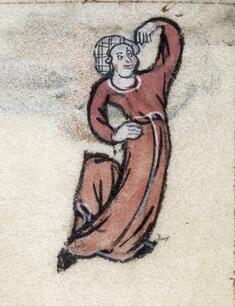 Leaf from Book of Hours: Hours of the Nativity of the Virgin, Woman Dancing in Margin
view details