arrow_forward_ios

arrow_forward_ios
Annunciation
ca. 1450-1490 (Late Medieval)
Due to its plentiful supply, beautiful translucent tone, and soft texture that made it easy to carve, alabaster was commonly used for English relief sculpture in the 14th and 15th centuries. Many of the reliefs that survive today are panels from altarpieces of the Passion of Christ or the Life of the Virgin. The altarpieces were not very expensive and were made for both local use and export to the continent by workshops in Nottingham, near where the alabaster was quarried. They were generally painted, and traces of pigment are often visible today. See also Walters 27.310 and 27.308.
This Annunciation would have been the first narrative panel of an altarpiece dedicated to the Joys of the Virgin. The Assumption (Walters 27.8) is from the same series. The imagery includes an adoring angel, God the Father blessing Christ's conception, and a lily (symbolizing the Virgin's purity) surrounded by a scroll that was once painted with Gabriel's salutation to Mary.
Provenance

Provenance (from the French provenir, 'to come from/forth') is the chronology of the ownership, custody, or location of a historical object.
In the Chateau de Bruniquel, Tarn et Garonne, France; Mme d'Ouvrier de Villyby, Paris, by purchase; Ferdinand Schutz, Paris, by purchase; Henry Walters, Baltimore, 1928, by purchase; Walters Art Museum, 1931, by bequest.
Exhibitions
| | |
| --- | --- |
| 1962 | The International Style: The Arts in Europe Around 1400. The Walters Art Gallery, Baltimore. |
Measurements
16 1/8 x 10 3/8 x 1 5/8 in. (41 x 26.4 x 4.2 cm)
Credit Line
Acquired by Henry Walters, 1928
Accession Number

In libraries, galleries, museums, and archives, an accession number is a unique identifier assigned to each object in the collection.
27.309
Do you have additional information?
Related Objects
Saint John the Evangelist
ca. 1420-1450 (late Medieval)
view details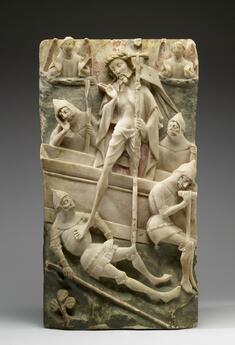 Resurrection
1450-1490 (Late Medieval)
view details