arrow_forward_ios

arrow_forward_ios
Resurrection
1450-1490 (Late Medieval)
In the fourteenth and fifteenth centuries, alabaster was a popular sculptural material in England, where it was in plentiful supply. The soft texture of the stone makes it easy to carve, and the translucent qualities of the surface offer an almost glowing beauty well suited to church decoration. Panels of carved and painted alabaster were pieced together to create large altar frontals, often showing scenes of the Passion of Christ or the Life of the Virgin. These altarpieces were made at workshops in Nottingham, in the region where the alabaster was quarried, and could be used in local churches or exported to continental Europe. This dramatic panel showing the moment of Christ's Resurrection exemplifies the detail and texture that could be achieved by sculptors working in alabaster.
In this exquisitely refined carving, even very shallow relief can suggest a decided sense of depth by depicting overlapping forms. The soldiers in front are in front of the open tomb, which is in front of other sleeping soldiers. The figure of the risen Christ is carved with such subtlety that even the fabric of his mantle appears soft. As Christ steps from the tomb, his foot rests so gently on the sleeping soldier that he doesn't even wake.
Provenance

Provenance (from the French provenir, 'to come from/forth') is the chronology of the ownership, custody, or location of a historical object.
In the Chateau de Bruniquel, Tarn et Garonne, France; Mme d'Ouvrier de Villyby, Paris, by purchase; Ferdinand Schutz, Paris, by purchase; Henry Walters, Baltimore, 1928, by purchase; Walters Art Museum, 1931, by bequest.
Measurements
H: 19 1/2 x W: 11 x D: 2 5/16 in. (49.5 x 27.9 x 5.9 cm)
Credit Line
Acquired by Henry Walters, 1928
Accession Number

In libraries, galleries, museums, and archives, an accession number is a unique identifier assigned to each object in the collection.
27.308
Do you have additional information?
Related Objects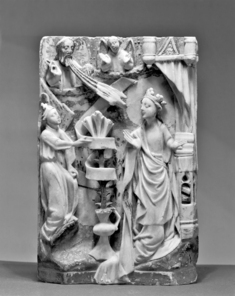 Annunciation
ca. 1450-1490 (Late Medieval)
view details
Saint John the Evangelist
ca. 1420-1450 (late Medieval)
view details