arrow_forward_ios

arrow_forward_ios
Saint John the Evangelist
ca. 1420-1450 (late Medieval)
Due to its plentiful supply, beautiful translucent tone, and soft texture that made it easy to carve, alabaster was commonly used for English relief sculpture in the 14th and 15th centuries. Many of the reliefs that survive today are panels from altarpieces of the Passion of Christ or the Life of the Virgin. The altarpieces were not very expensive and were made for both local use and export to the continent by workshops in Nottingham, near where the alabaster was quarried. They were generally painted, and traces of pigment are often visible today. See also Walters 27.8, 27.309, and 27.308.
This figure of Saint John the Evangelist evinces the characteristics of this period in art known as International Gothic. The elongation and grace of his hands, feet, and draping gown show elements of the this style, which towards the end of the Middle Ages had spread through Europe and England. He is characteristically beardless and holds in his right hand a book representing his writings, on which rests his symbol, an eagle. In his left hand he holds the palm branch given to him by the Virgin Mary.
Provenance

Provenance (from the French provenir, 'to come from/forth') is the chronology of the ownership, custody, or location of a historical object.
Victor Gay, Paris, by purchase; Sale, Hôtel Drouot, Paris, March 23, 1909, no. 355; George Robinson Harding, London, by purchase; Henry Walters, Baltimore, 1911, by purchase; Walters Art Museum, 1931, by bequest.
Measurements
17 1/16 x 5 11/16 x 2 7/8 in. (43.3 x 14.4 x 7.3 cm);
framed: 17 1/16 x 6 5/8 x 3 in. (43.3 x 16.9 x 7.6 cm)
Credit Line
Acquired by Henry Walters, 1909
Accession Number

In libraries, galleries, museums, and archives, an accession number is a unique identifier assigned to each object in the collection.
27.310
Do you have additional information?
Related Objects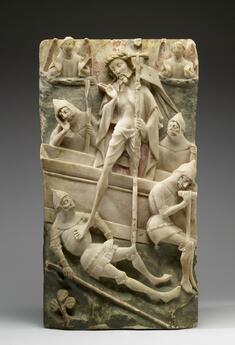 Resurrection
1450-1490 (Late Medieval)
view details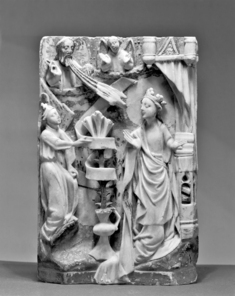 Annunciation
ca. 1450-1490 (Late Medieval)
view details